Involved Missions
Step-1:User registration and login. Confirm that the confirmation mail arrives in the registered mail.
Fig. 1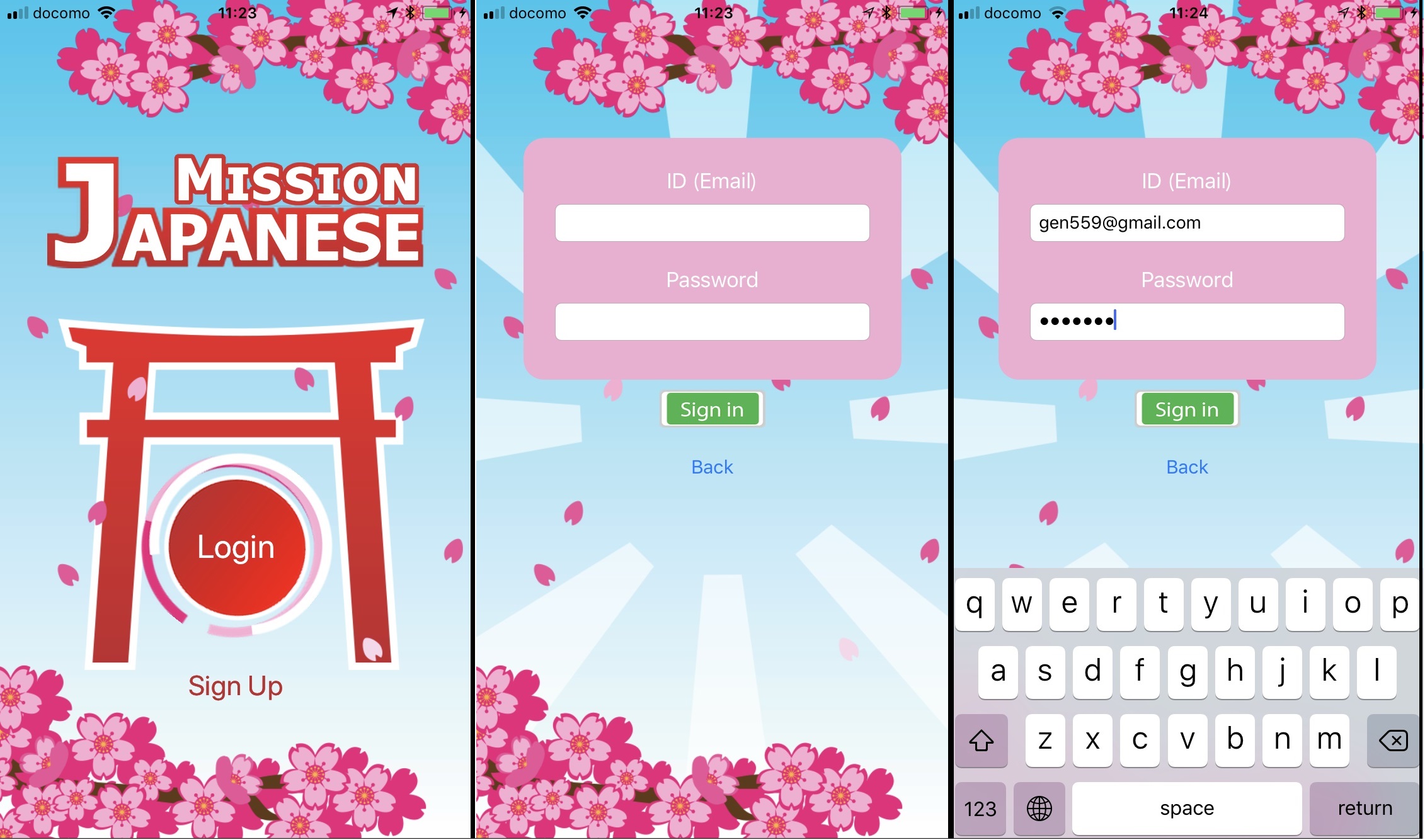 Step-2:Download the registered course. Let's practice Mission one by one every week.
Fig. 2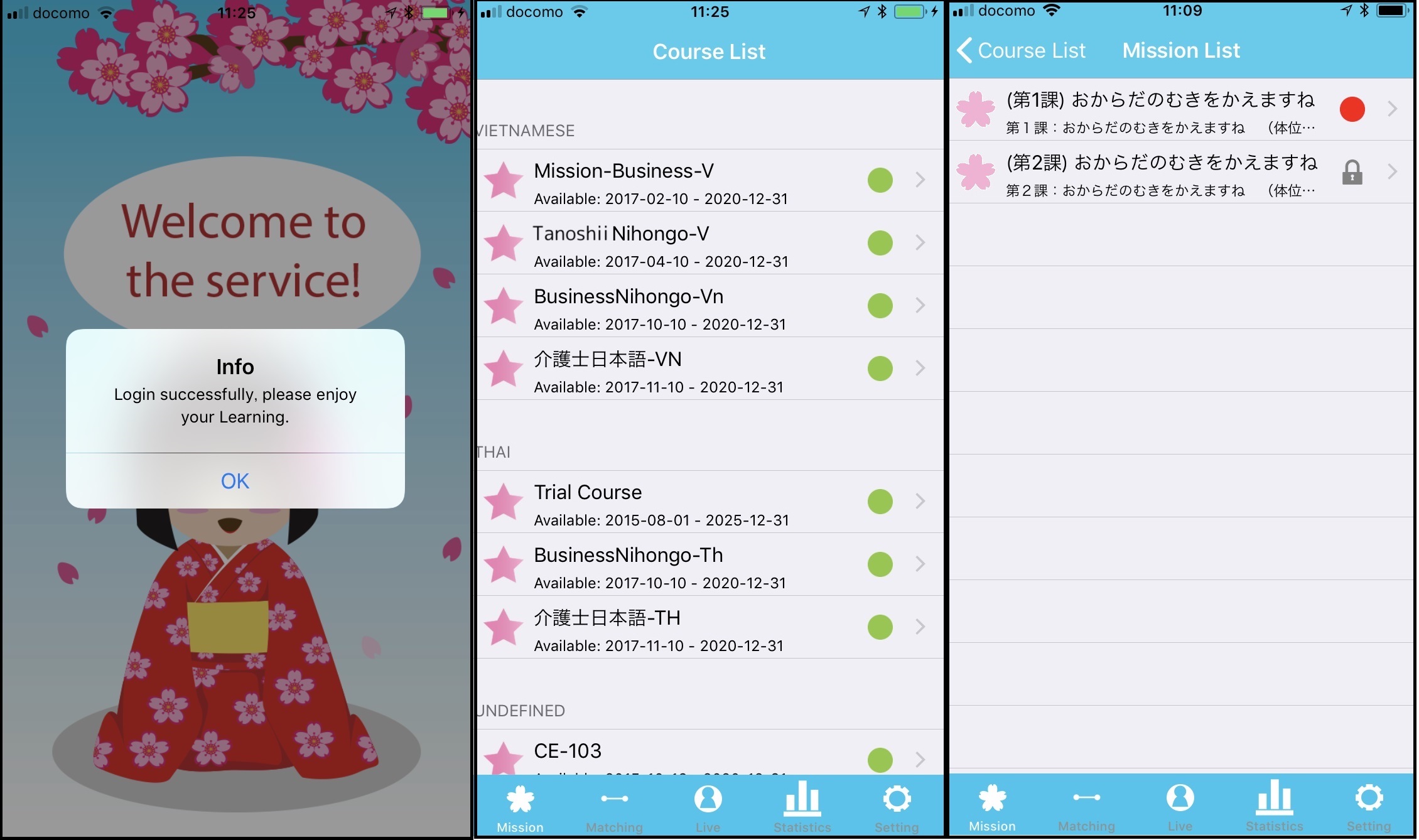 Step-3:In Mission, first, self-learning of each of basic words, grammar, and conversation is done.
Fig. 3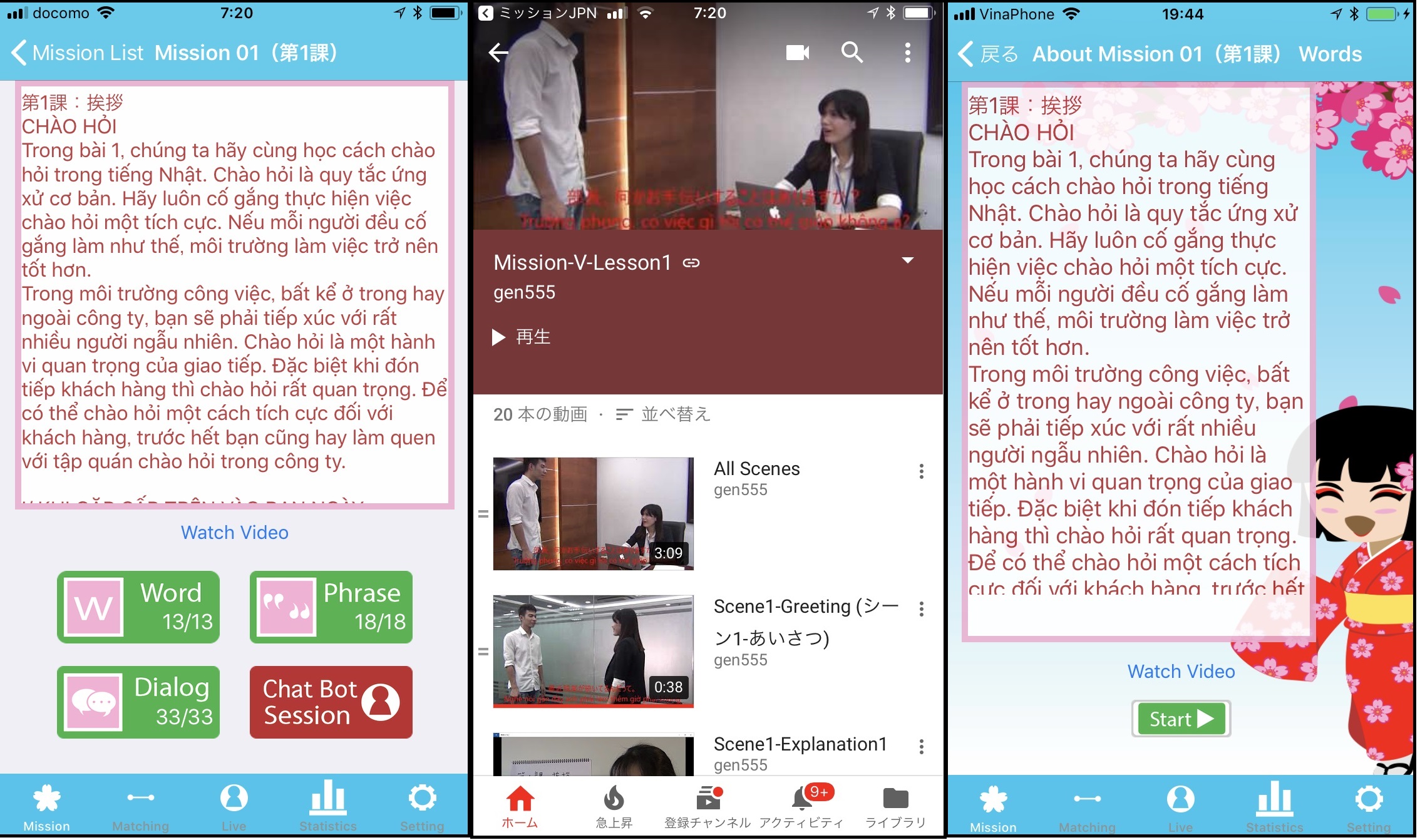 Step-4:Listen to the sound of the sample, record it by yourself, and score whether you can speak correctly.
Fig. 4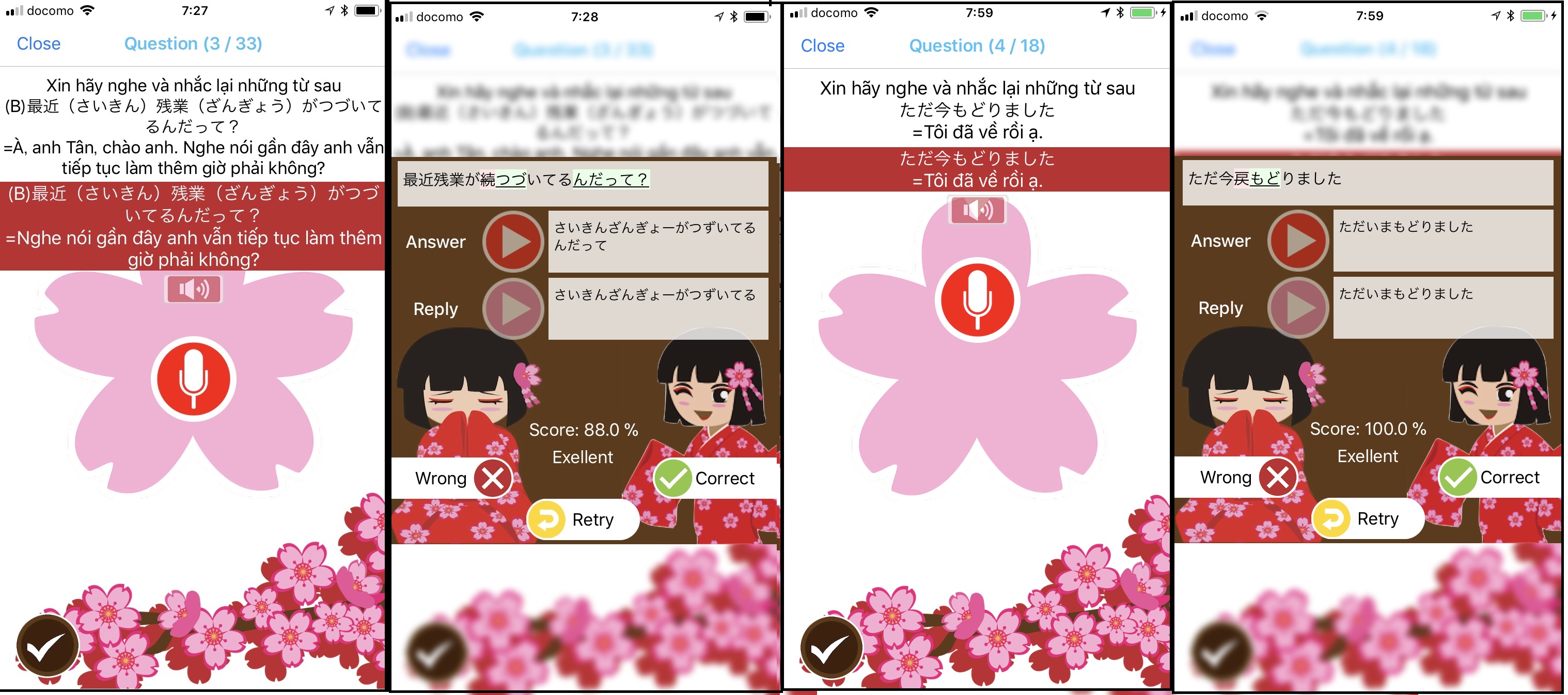 Step-5:When basic practice is over, let's challenge practicing dialogue with computer (ChatBot).
Fig. 5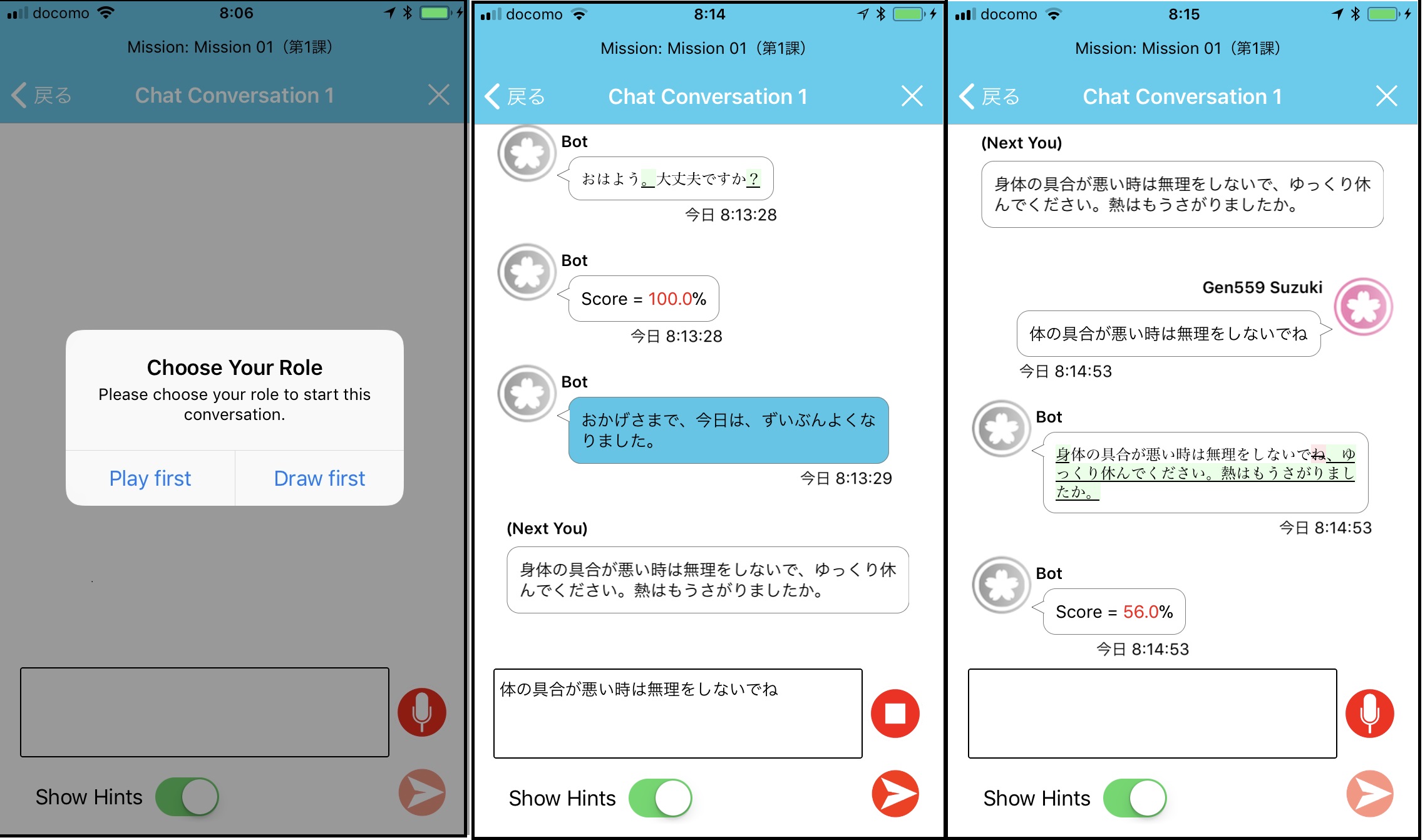 Step-6:Let's practice RolePlay that you learned in a form that interacts with each other as if you practice dialogue with humans.
Fig. 6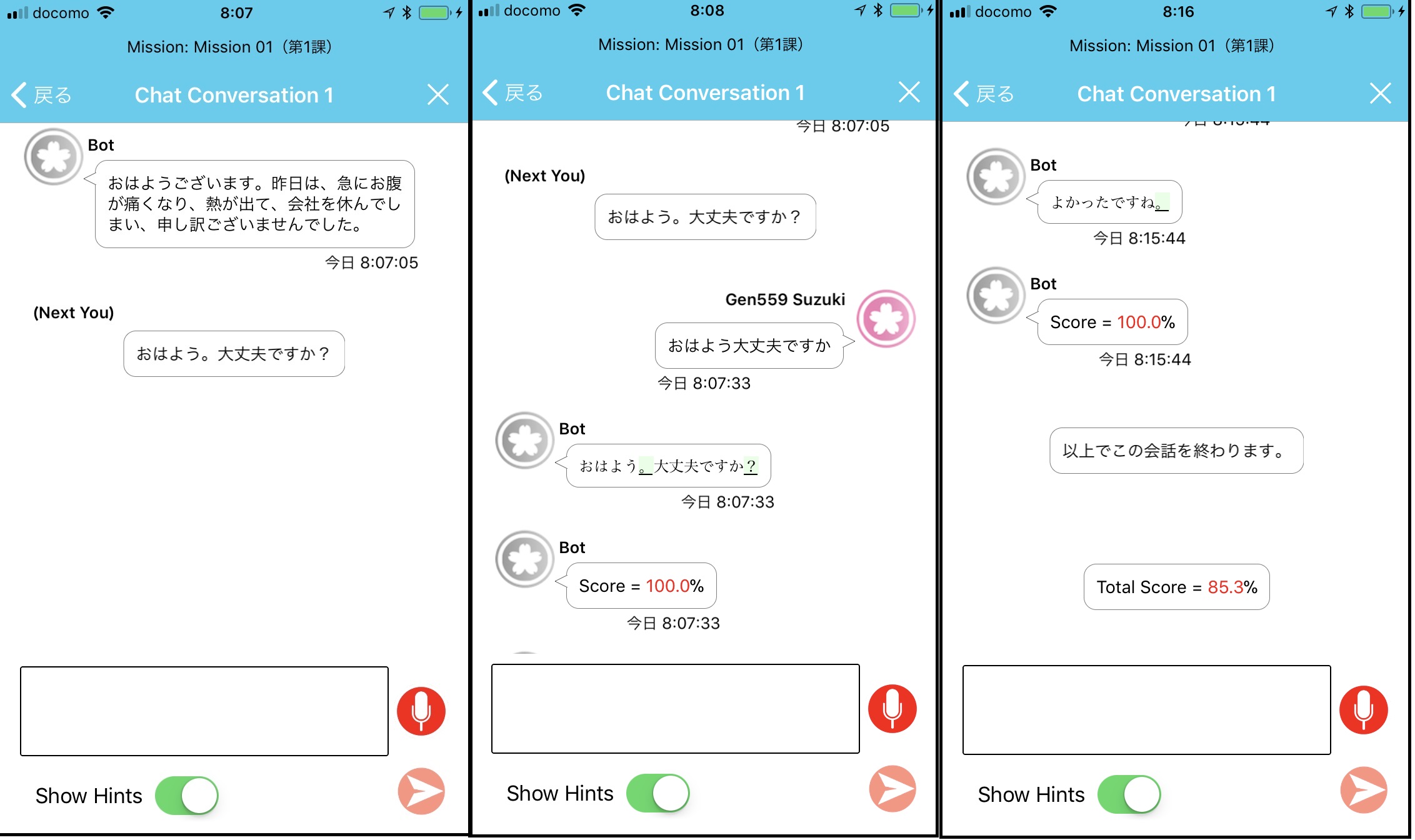 The start of a free trial service for MissionJapanese.
MissionJapanese has started a free trial service for Android smartphone users.
Using the Android version of our app during the free trial, students study for one week on their own, and then they have actual conversation practice with Japanese communicators using the contents that they have mastered.
Improve your conversation skills by actually trying to use the expressions you have learned in conversations with Japanese people!
The MissionJapanese service exhibited at the fair forOverseas education in Bangkok.
The MissionJapanese service exhibited at the 2015 fair for international students that was held at the Bangkok Sheraton Grande Sukhumvit Hotel on September 5th and 6th, 2015 (Saturday and Sunday).
For those who visited our booth, they were able to try conversation practice with Japanese communicators who had come from Japan.
Many visitors to our booth were able to experience actual live conversation practice, and many pre-applied for the MissionJapanese service.
Introduction
MissionJapanese is a new learning application for acquiring Japanese communication skills.
■To date, MissionJapanese has offered a combination of self-learning in the application and one-on-one dialogue practice to master communication skills in Japanese.
■Although this method was very effective, there was a problem that the cost for dialogue practice with humans is high.
■In this newly developed application, the computer will replace humans and the computer will practice dialogue.
■By combining speech recognition technology and ChatBot technology, you can practice the same dialogue as practicing dialogue with humans.
Please try this application by all means trying to improve your Japanese skills.
■In order to master practical communication skills in Japanese, it is important to actually practice dialogue in RolePlay format.
■At MissionJapanese, the computer scores whether the right expression can be made.
■Learn self-learning in the application, practice dialogue with it, let's check it.